September is Suicide Prevention Month: Join Mental Health in the Mountains Speaker Series 2020!
09.11.20
Join Tahoe Forest Health System
for some exciting speakers in the month of September as we all celebrate the power of prevention during Suicide Prevention Month.
Up first, Dr. Sally Speaks on September 14th.
Tahoe Truckee Suicide Prevention Coalition
We welcome the community to attend the Mental Health in the Mountains Speaker Series 2020 presented by Tahoe Truckee Suicide Prevention Coalition, in partnership with Sierra Community House.
---
The COVID-19 pandemic has challenged communities with unprecedented uncertainty, anxiety and disruption. Many who were already experiencing toxic stress and mental health challenges find themselves suffering even more due to the distress caused by all of the ever-changing circumstances cause by the virus, social unrest and economy. Given the perfect storm of risk factors, forward looking communities are being proactive to prevent further crises, such as suicide and complete mental exhaustion. In this presentation, Dr. Sally Spencer-Thomas, a global expert in resilience, mental health and suicide prevention will share strategies for better coping, support, and even growth through these hard times.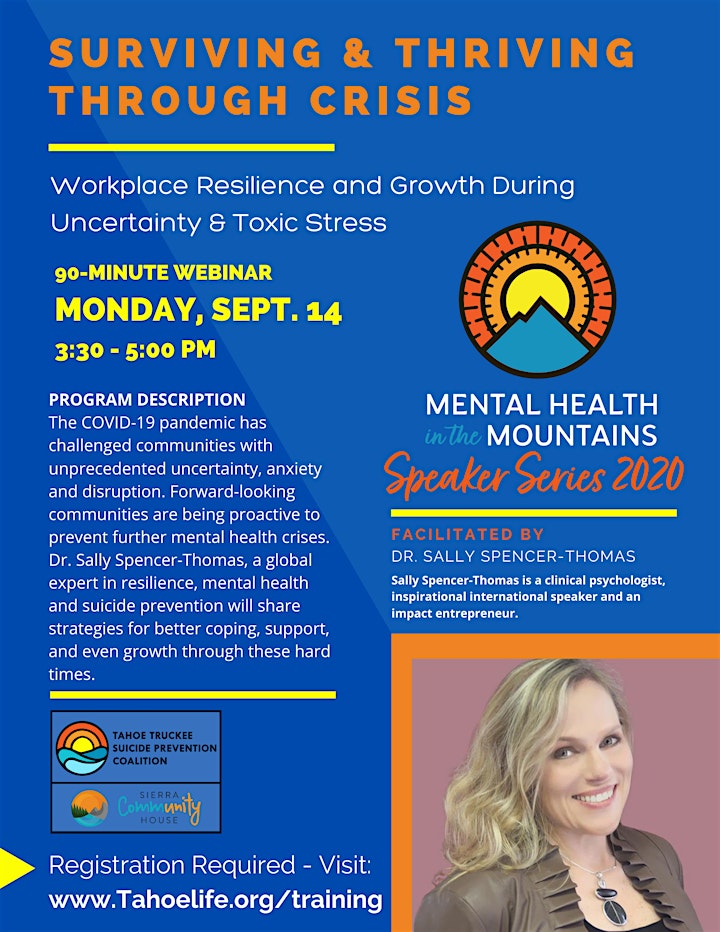 ---
 The Community Resiliency Model (CRM) trains community members to help themselves and others within their wider social network. The primary focus of the program is to reset the natural balance of the nervous system.
CRM's goal is to help to create "trauma-informed" and "resiliency-focused" communities that share a common understanding of the impact of trauma and chronic stress on the nervous system, and how resiliency can be restored/increased using skills.
In the CRM Skills Training, participants will learn six wellness skills designed to help them track their own nervous systems, which leads to bringing the body, mind, and spirit back into greater balance. We encourage participants to pass the skills along to family, friends and their wider community.
The CRM model teaches us to become "resiliency-informed," which enables us to make a shift from focusing on what may be wrong with us, and/or focusing on what has happened to us, to what is right with us, and what are our strengths.
Participants will learn and instantly be able to use strategies, based on human biology and neuroscience, to create new neural pathways that strengthen the ability to cope when dealing with trauma, chronic stress, and/or bounce back faster from everyday normal stressors.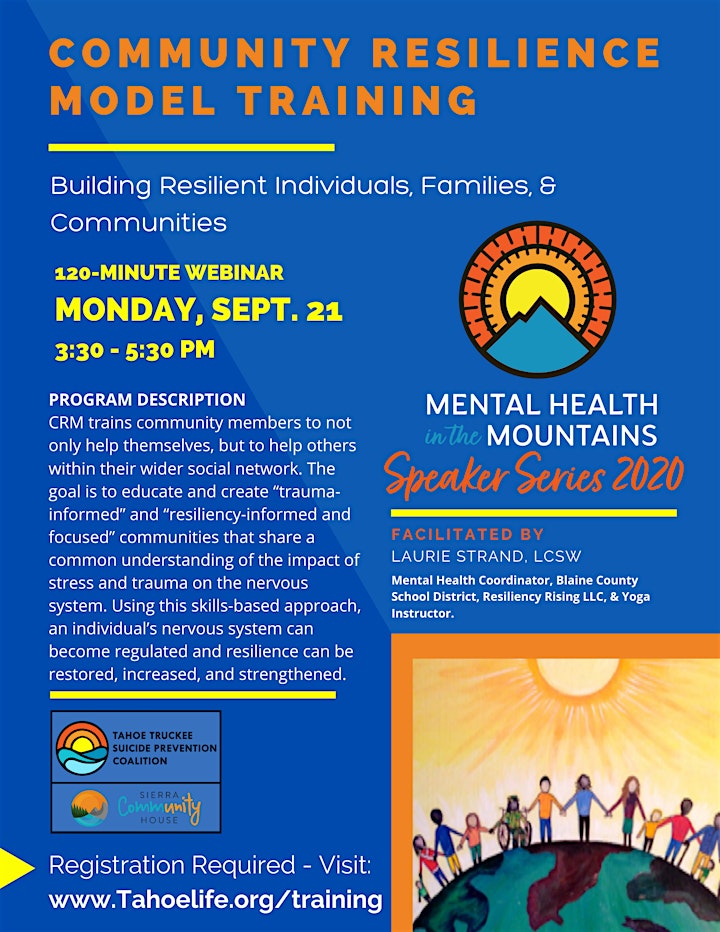 ---
 In a series of "snapshots," Dese'Rae L. Stage shares her experiences with suicidal thoughts (and sometimes more) over the course of her lifetime. She covers family dynamics and the teenage years—the difficult transition from middle to high school, questioning her sexuality; an abusive relationship; divorce; infertility; and how suicidal thoughts cropped up in each. She shows the audience a living portrait reflecting recent CDC findings indicating that suicide is a response to adversity, rather than mental illness as a singular cause. She walks us down the path that led her to Live Through This and brings the voices of attempt survivors with her through portraits, quotations, and video—literally taking the audience into an interview with her. She discusses major themes that crop up in the stories of survivors, along with the impact the project has made in a number of contexts. Stage implores listeners to open their hearts and their minds to those of us who have literally lived through it, and provides incontrovertible evidence that suicide affects all of us. Audiences can expect a talk that will be revealing, often touching, always honest and, ultimately, hopeful.
---
Every day in California, friends, family and co-workers struggle with emotional pain. If you or someone you know is in crisis, call the National Suicide Prevention Lifeline at 1-800-273-TALK (8255) or text HELLO to 741741, the Crisis Text Line.